It's typical, isn't it? As soon as you spend a bomb on gym clothes, your favourite brand comes out with its own activewear line!!! I was still super excited when ASOS dropped their gym wear collection. Their stuff is always great quality so I knew they'd make fab activewear. I thought it would be fun to put together a wish list of my favourite pieces from the collection, so here we go...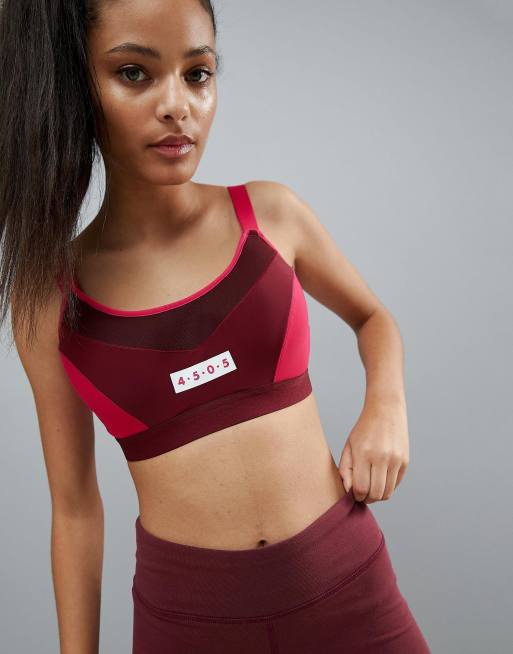 I am super picky about sports bras, and when I saw the 4505 range I was pretty disappointed. Most of the bras are really flimsy and thin. They are completely for aesthetics which is totally fine - but not for me. However, there was this one underwired sports bra which I was super happy about as a big boobed gal! I adore the colours and the panelling, and especially the big thick straps.
Now, this is pretty pricey for a plain black legging. But when it's sportswear I think it's so important to invest if you're going to get great quality. Black leggings are complete essentials - plus the little white logo is so cute!
I love this t-shirt! The colour is so nice, and I love the white logo across the arm - it looks so cool! I always have to have my gym tops in a tight fit because a baggy tee just gets me too hot and flustered!
I think this hoodie is so cute! Don't get me wrong, I wouldn't wear it normally - it's clearly activewear. But I love that because it will look good with whatever gym clothes you wear. I love the contrast between the black and the pink, and the tiny pocket is so helpful for when you don't want to take a bag to the gym.
This jacket is so cool! I would wear this every day whether I was at the gym or not! I love the deep khaki colour and the big ribbed cuffs and neck. This would be ideal to wear to and from the gym - especially in this freezing weather!
I usually hate gym bags. They are ugly, purely practical and scream "I'm going to the gym!!!" This one, however, I love! It's definitely not a bag that you can use normally - it's clearly a gym bag. But it's so much cooler than your usual Nike P.E. bag. I love the cobalt blue, and how it's really on trend with the puffer material.
Have you bought anything from the 4505 collection? What do you think of it?