Here at Soap & Glory we are all about getting festive around Easter and treating yourself! We ALL love chocolate, but if you have had one too many Easter Egg over the holidays, then why not treat yourself to some chocolate makeup instead...
Too Faced have upped their liquid lipsticks with these gorgeous shades, with names like 'Chocolate Milkshake' and 'Chocolate Diamonds'. These delicious lipsticks are highly pigmented, easy to apply and have a gorgeous shine. You don't need a brush to apply them, and they are comfortable on the lips. And can you believe they actually contain real cocoa, and have a real chocolate scent described as 'mood boosting'...
This palette is full of rich, warm chocolate shades with soft golds. It's a good mix of matte and shimmer shadows, and all the shadows will work beautifully for loads of different looks. The palette also has three different powder eyeliners which are really pigmented! Bobbi Brown shadows are easily buildable so you can make a huge amount of strong or soft looks with this palette - especially with all the different eyeliners.
This bronzer is a real throw back - I remember so many people used to have this back in the day! I still can't believe it smells like chocolate. This bronzer is really fine and light, and the texture is super soft, so it's easy to give your self a healthy natural bronzey glow.
These palettes are basically complete dupes of the Two Faced palettes, and they do loads and loads of them! This one's definitely my favourite out of them all, and although it doesn't look very festive, the shades are beautiful. I absolutely love the peachy-orange shades and the rich brown ones! There are 16 shades that are a mix of matte and shimmer.
This palette is inspired by truffle tones, so it is a really rich lovely palette. Again it has a great mix of matte and shimmers, and the shadows are made to look dewy and gorgeous - perfect for Spring!
And here's the real thing! This gorgeous palette actually smells of chocolate and is infused with anti-oxidant rich cocoa powder, just like the lipsticks! The shadows are really pigmented and are a mix of browns, pinks and plums. Just make sure you don't leave it around children, though, or this may happen - hahaha!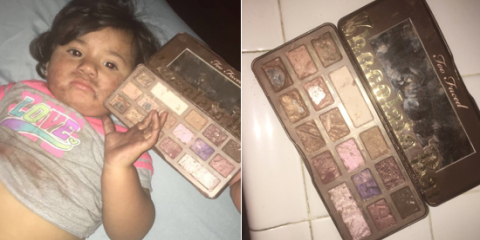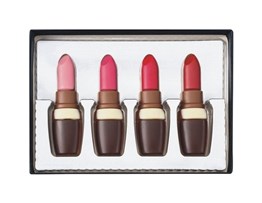 What are you doing to celebrate this Easter? Will you be getting an Easter Egg or something else?!